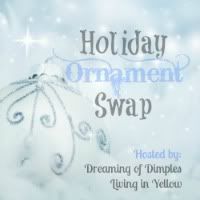 I'm an avid
Living in Yellow
reader, so when I saw that Erin was co-hosting a blogger ornament swap with
Dreaming of Dimples
, I couldn't wait to add my name to the list. I looooooove Christmas. My bins of decorations take up the majority of storage space in my basement. I only listen to Christmas music from Thanksgiving on out. It's the "most wonderful time of the year" and I eat it up. Combine my love of Christmas with my love of blogging and BAM! you've got a recipe for some holiday cheer and a fab link up to boot.
What a great excuse to send a thoughtful gift, meet some lovely new ladies, and discover some new etsy shops along the way! Wooo hooo! Well without further ado, here is how it all turned out.
Tausha is expecting a baby girl in January, loves bright colors and animal prints, and her blog chronicles her life as a wifey and soon to be mommy. Definitely check her out. Oh and she owns
Oopsie Daisy Decor
- a fab etsy shop that sells adorable burlap banners. Love!
Then there is me, who has boys and loves all things country and rustic, so the lovely Jen, who shares my taste of country decor (and my name) and writes
Boogies N Boo-Boos
sent me this sweet wooden ornament:
size 25 jeans
after 4 kids makes me want to hate her, she has been a pleasure to get to know. It's nice to know I'm not the only one who has had to
fish poop out of a bathtub
and rewash my children or has referred to my family as
The Griswalds
. Check her out, you'll be happy you did.
Enough about poop and skinny people. Let's talk about how cute my new ornament looks on my mini rustic tree in my dining room.
Pretty cute huh? Enjoy the gratuitous wine shot.
Speaking of wine, all this writing is making me thirsty. I should probably uncork one of those babies right now...
Bottom line I think the ornament swap was a smashing success. What about you? Have you every participated in an online/blogger swap? Would you?
You think about that and let me know... I'm going to go pour myself a glass.
Cheers!
xoxo
Jenny